Social Media Engagement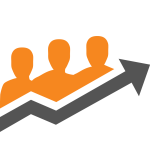 We maximize your social media reach, allowing your business to connect and engage with a much broader audience.  Rather than creating large, over reaching social media campaigns that cost thousands of dollars each month, we focus on affordable, effective strategies for every budget. Clients appreciate our accessibility, consistent service, and hands-on approach to engaging and growing their audiences.
We charge based on social media channels, and sources of content. If content is client supplied, the price reflects that, whereas if we source content and share on our clients' behalf, we charge accordingly. All social media activities are documented and reported to clients on a monthly basis. We discuss client objectives prior to beginning campaigns and make sure that one voice is echoed across all social media platforms.
We require a 3-month commitment for all social media contracts. Client is expected to pay for monthly services in advance. To inquire about social media packages call 530.648.0445 or send an email to begin.