Setting Up Your Web Host
Bought your domain? Great! Now, it's time to set up web hosting. It's the key component in making your website LIVE. The host is the company that warehouses your files. They have servers and your files will live on their servers, though you have complete control over the content and the access.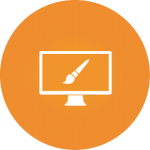 This information may seem very basic, and for many people, this is probably second nature. You might be surprised to find out, the most common question we get is – "what's the difference between my registrar and my host?" so we're going to cover this topic briefly.
When you purchase your domain name, you do so through a registrar. The domain is your URL or website address. You could choose a registrar that ALSO operates as the website host, meaning you'll deal with one company to purchase your domain and to broadcast your web files onto the world wide web. (Yes, we just used a ton of layman speak, and our developer pals are probably shaking their heads at us, but it's OK. We want to say it so it's crystal clear no matter what your experience level is, so forgive us if we're not speaking your language).
It's important to understand the difference between your registrar and your host, because if you purchase your domain through Registrar ABC, and your files are hosted at Host 123, there will be a key element you have to address before your website goes live — and this is Domain Name Servers (DNS).
Say you bought www.iLoveAlligators.com through Registrar ABC. You then open an account with Host 123. This is all fine and good. But for Host 123 to broadcast your files or WEB PAGES – you will need to use their DNS. This means you log into your Registrar ABC account AFTER you purchase your hosting. When you purchase your hosting, your hosting company (Host 123) will share the DNS settings with you. Take those DNS settings, log into Registrar ABC, and change the DNS settings to match Host 123. This will take you less than 2 minutes, and it's not complicated, but it's totally necessary.
Your next step may be to install WordPress or another content management system (CMS) onto your web host. From this point on, you will spend the majority of your time logging into your web hosting control panel (Host 123) and not your registrar (Registrar ABC). You'll primarily need to communicate with your registrar when your domain name is up for renewal.